Fallen Leaves and Broken Toes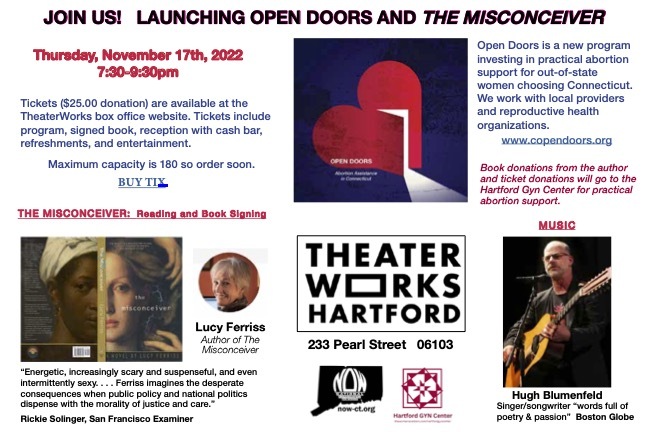 November 2, 2022
Dear friends,
Only the oaks, stubborn stalwarts that they are, still hang on to their leaves at this point. On my return from the western mountains last month, practically the first thing I did was to break my toe, so it's only now that I'm able to get outside and crunch through the ground's colorful carpet. I tell people that I broke the toe by writing, which is a violent activity. If I didn't write, I wouldn't be publishing books, and my publisher wouldn't have sent me two advance boxes of The Misconceiver that I set down in my office, and when I waltzed in there barefoot late one night to get my cell phone from my desk without turning on the light, I wouldn't have jammed my right pinky toe into the corner of the boxes.
See what I mean? Violent sport.
The book is out now and has apparently sold a few copies in Australia. Down under! Who knew? There are a handful of events planned, the most immediate of which is a launch here in Hartford, at 8:00 pm on Nov. 17, in the grand atrium of TheaterWorks. It will benefit a new initiative called "Open Doors," whose mission is to arrange practical, logistical support for women coming to Connecticut for abortion procedures. If we sell out the theater, we'll be able to donate $4000 to the Hartford GYN Center, which is investing in such support. So please come if you're in this area, and tell any friends who lurk around central Connecticut. I am donating the books as part of my pledge to help women threatened by the way we're watching the real-life counterpart of The Misconceiver unroll. If anyone wants to get caught up on the backstory of the book, this article appeared in LitHub last week.
What lies ahead? The nail-biter midterms, of course. I heard Linda Greenhouse speak yesterday about the present and future of the Supreme Court, on which she's an expert. Her forthcoming book is apparently titled The Year that Broke the Court; in her talk, she explained that she as talking about this past year, though the one ahead will be a doozy as well. Lucky for her and for us, she is such a fabulous writer that I get pleasure from reading her even when she's delivering really bad news. My other reading this fall has reached back in time. I'm combing through Christina Stead's amazing The Man Who Loved Children (1939) because I'm on deadline to write a volume about it in the Bookmarks Series. And I just finished rereading Elizabeth Bowen's The Death of the Heart (1938) for a LitHub interview that will happen later this month. Those pre-WWII women writers don't get enough credit. I'd put them in the ring with Hemingway any day.
May your November be as bright as November can be,
Lucy