Autumn Is for Reading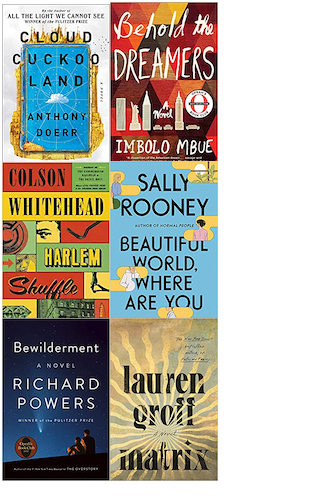 September 28, 2021
Like so many others, I cannot remember the fall of 2020 with any clarity. Were we flooded, then, with Big Books by Famous Authors, as usually happens to mark the autumnal equinox? Somehow it feels as though they all held off for Fall 2021. Right now it is raining outside – and I must pause to observe that the Northeast is getting 1/3 more precipitation as a result of climate change, not the worst outcome but the kind of thing that changes an entire ecosystem! – and I feel as though I could curl up from now until 2022, just reading books.
Let's start with Sally Rooney, that most vilified of millennials at the moment. I actually think Rooney is up to something that will make a change in the way we read novels, and Lord knows her books are selling, especially after the HBO adaptation of her second novel, Normal People. But even though the official reviews of her fall book, Beautiful World, Where Are You?, have glowed, literary social media has glinted with the knives out to cut her to ribbons for being self-indulgent, shallow, callow, pretentious – in short, all the things that young writers get accused of. I haven't read the book yet, but it's high on my list. What I think Rooney does is to compose fiction with the rhythms, unanticipated shifts, dead ends, and ambiguities that generally distinguish life from fiction. Others have done this by writing autobiography and calling it fiction – but reading Rooney's stories, I have no more interest in "what really happened" than I do in reading other fiction. In other words, she builds a world, but she does it with tools that lie outside the novelist's usual toolbox. Given the common complaint that fiction is too contrived, especially in an age when real-life events outpace what the imagination can conjure, I think she is on to something. Of course, I may not like the book anyway. I was disappointed in Elena Ferrante's latest, even though (or maybe because!) I struggled through it in Italian. But I'm still mighty curious.
Ahead of Rooney on my list is Anthony Doerr's Cloud Cuckoo Land. Doerr's All the Light We Cannot See was such a bestseller that I held off reading it, and then I was astounded. I can't even work up envy of Anthony Doerr – he's just that good, and I feel that fortunate to be alive while he's writing and publishing such clever, tightly plotted, and emotionally powerful prose. He's got years ahead still to write great suff.
Then there's Richard Powers's Bewilderment. I didn't appreciate Powers's cerebral work until I read The Overstory, and even then I admired more than I enjoyed. This new book again tackles ecological catastrophe, but I'm hoping his characters continue to move in the direction of vivid life rather than thought experiments. I feel similarly about Colson Whitehead's Harlem Shuffle. I have no such reservations about Imbolo Mbue's Behold the Dreamers, which is a bighearted immigration story apparently told with fresh, energetic writing – and I'm always a sucker for an ambitious debut novel.
Finally, there's Lauren Groff's Matrix, a novel whose arrival has both excited and worried me, because my own manuscript about an extraordinary 12th-century nun is making the rounds of publishers, and how many 12-century nun books does the reading public want? I was also not a fan of her bestseller Fates and Furies, though I've always admired her short fiction. And speaking of short fiction, I hear that people are having trouble getting Foreign Climes from Amazon. Let's forget Amazon! My local bookseller, The Bookstore in Lenox, has plenty of copies. Contact them for a copy, or just contact me to buy one – I'll sign it! – and I will replenish my supply from The Bookstore. Long live independent booksellers!
I hope your fall is off to a lovely start, in reading and in life.
Lucy
Lucy@lucyferriss.com
http://lucyferriss.com